The Godfather of my Soul 
James Brown. Probably the single most important figure in music. 
Putting the musical emphasis on The One, the first beat of every measure. He created a new genre, Funk. 
It isn't an exaggeration to say that although music existed before James his impact forever altered its very nature. 
Funk gave birth to Boogie, Disco, Rap, Hip Hop, House, Dance and so much more. He is still the world's most sampled recording artist. 
There is a little bit of James Brown in pretty much all modern music. 
Mr. Brown was an astonishingly gifted performer, a multi-instrumentalist, singer, songwriter, dancer, and so much more. A true icon. 
He was an incredibly active social activist. When I was a child and living in Cameroon, James Brown was revered. In Africa, he was the living proof that you could make it in the white man's world. I get chills every single time I hear Say It Loud – I'm Black and I'm Proud. You cannot underestimate the importance of that song, because it was so much more than that, it was a manifesto. It spurred a movement. 
Funky President (People It's Bad) is as relevant today as it was in 1974:
We got to get together and buy some land 
Raise our food just like the man 
Save our money, do like the mob 
Put up your factory and own the job
We've got to get over, before we go under
On and off the stage he was bigger than life. This is captured with aplomb in the great biopic Get On Up. The amazing Chadwick Boseman is mesmerizing in his portrayal of James Brown, warts and all. 
Musically he never sang a song the same way, he lived in the moment. In the movie The Blues Brothers he is the only performer who was recorded live. Aretha Franklin's performance is put together from many takes and is ultimately lip-synced. She too made every performance of her songs unique. 
James was stylish, sexy, confident, he inspired people. He sure inspired me! The timing, the beat, how every instrument becomes percussive. The groove. 
Like all the greats, The Hardest Working Man In Show Business had a few defining stages in his career, Gospel, R&B, Soul, from his Little Richard influenced style of singing, to creating his own signature groove, Funk music. In 1967 James released Cold Sweat, considered to be the first true Funk song. It featured the accent on The One, the drum solo that introduced the rhythmic break that became the foundation of sampling. Cold Sweat was revolutionary. Not only did it usher a new genre, it shocked and panicked musicians at the time who had no idea what to do with this new musical expression. It departed from the conventions and established norms. 
Will Durant said "The only real revolution is in the enlightenment of the mind..." That James did. He enlightened and entertained. And still does. 
My own bag (to use James' lingo) is all James in that I use my music for social commentary, my musical structure so heavily inspired, my live shows will be tributes to his. Ye shall see. 
My James Brown playlist is actually his: Star Time a 71 track compendium he supervised. 
Favourite Album: Star Time
Favourite Song: Rapp Payback (Where Iz Moses)
Favourite Moment: James Brown and Sammy Davis Jr.
Favourite Memory: Seing James on Late Night with David Letterman
Favourite Picture: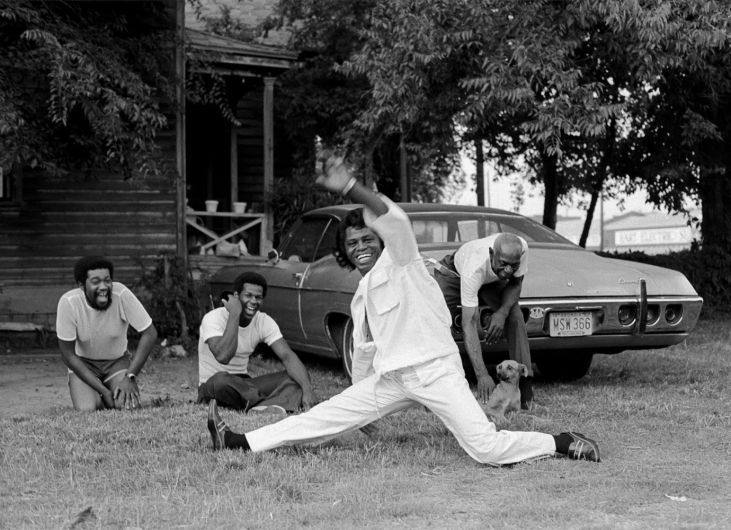 James Lives. 
Peace and Love. 
Charluxx.