aka Sara Bellum aka @FatBellyBella aka Medulla Oblongata aka Low Down Loretta Brown aka Analogue Girl in a Digital World 
Hi! It's Charluxx. 
The first time I saw and heard Erykah Badu I was absolutely mesmerized. Wow. Here was someone that operated on a different wavelength. Mind you, all the greats do. From the start, she was already there. 
She was classy, sassy, sexy, had a unique point of view, was outside the norm... It was Instant Love™! 
In 2001 I was working in the tech sector when the bottom dropped out and was suddenly left without a job. I went into a depression. During those troubled times, Erykah was there, holding my hand trough her music. Mama's Gun became my refuge, my solace. Baduizm was the way out of the schism. 
Erykah is not just an amazing musician, she is an amazingly accomplished artist. Her style is her own. She just is. She is an icon. 
Musically, she has been called the First Lady of Neo Soul or the Queen of Neo Soul but to me, she created her own genre. Within whose parameters she fluctuates so perfectly. Nobody sounds like her. She has a flair for melodies and a feel for the groove. It all flows seamlessly. She runs the gamut from whisper to roar effortlessly. Her voice is liquid gold. Her tone is the very pulse of the Earth.
Hers is a voice that reflects the environment she navigates and the world we live in. Her characters are fleshed out and real. Her lyrics are clever, poignant and witty. Her point of view on society are moving and her social commentaries are pretty damn spot on. 
Let me stand on my soap box and let me say this loud and clear right now: black women's voices are some of the most important voices to listen to. We are fortunate that there are so many amazing ones. Just listen to what they have to say. Learn a few things. Thank you, that is all.
Her albums are lavishly produced, incredibility textured, spectacularly diverse little gems that will stand the test of time with the best of them. 
I listen to Erykah Badu all the time. I have never stopped. She grounds me and I find that reassuring in this world. 
I keep studying how she does it. She is a big inspiration, musically, stylistically, magically. 
She is one of the artist on this planet that I'd most love to collaborate with one day! 
If you've never seen her live, I urge you to do so. It is probably more akin to a spiritual experience than a purely musical one. She will entrance you, transport you to her world for the duration then gently bring you back down to earth. Changed and full of wonder. 
Follow her on Instagram for the full effect! 
Favourite Album: Mama's Gun
Favourite Song: (Triple tie) Kiss Me On My Neck, Love Of My Life Worldwide, and The Cell.
Favourite Moment: Every second of her in Janelle Monáe's Q.U.E.E.N. video... my favourite video ever!
Favourite Memory: Discovering her in 1997.
Favourite Picture: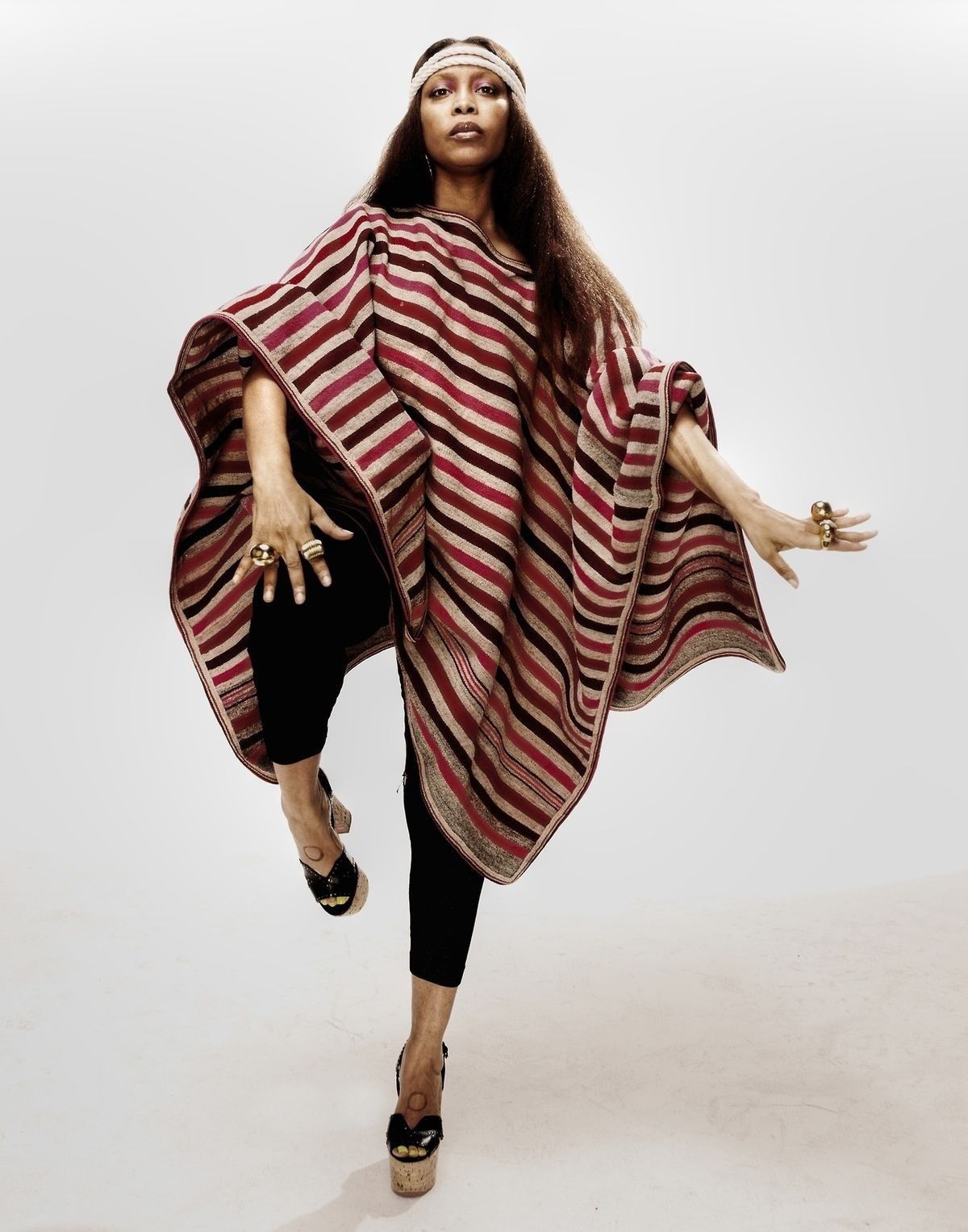 Erykah's playlist?.. Her five albums, in chronological order for your enjoyment. You're welcome! 
If you've never seen it, do yourself a favour and check out her incredibly brave video for Window Seat.
I love you Erykah Badu!
Peace and Love, 
Charluxx.